Vision Statement for the Pogonip
"Pogonip is a place to be appreciated for its natural beauty, habitat value and serenity, in contrast to the built environment. Pogonip should provide the community with education and recreation opportunities that are environmentally and economically sustainable."
– from the Pogonip Master Plan
Note: The Pogonip Master Plan is available in two parts: Part 1 and Part 2.
Please join the Workday on the U-Conn Trail, April 23, 2016
Mountain Bikers of Santa Cruz is planning a good workday on Saturday, April 23, to improve the quality of the U-Conn trail. We are pleased to invite all to participate. See this page for details.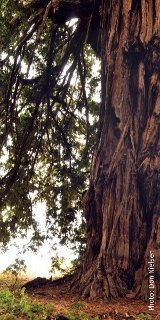 The Pogonip is a treasure
The Pogonip, 640 acres of natural open space and wildlife habitat, is a treasured public common in Santa Cruz, California. With its variety of redwood and oak forests, coastal prairie, many streams flowing from springs down steep rugged slopes toward the San Lorenzo River, with miles of trails and a rich history, the Pogonip is a unique open space, especially since it is immediately adjacent to our urbanized area. At the right is one of its few old-growth redwoods, never cut because it was too gnarled. (If you want to survive, be gnarled.)
Such places are rare, and should be valued and protected by members of our community. more
Other nearby natural areas, especially Wilder, the upper UCSC campus, and DeLaveaga Park, provide ample opportunities for the mountain biking experience at all levels of technical difficulty. In those places, essentially every path is open to use by mountain bikers, and those that simply want to walk quietly or watch birds or look at wildflowers tend to avoid such places
Leo Marx wrote The Machine in the Garden: Technology and the Pastoral Ideal in America in 1964. We need to keep listening to his words. We need to protect our gardens—our natural areas where humans can reconnect with other species—without the presence of machines. less